Czech Republic is more interesting worldwide – especially in Saudi Arabia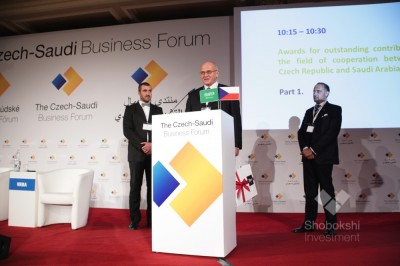 What are the goals of Czech Saudi Business Commerce?
In the long term, we Shobokshi Investment increased cooperation between both countries. That was the initial impetus for the establishment of such a chamber. We try to help other companies and investors with the implementation of business contacts from the Czech Republic to Saudi Arabia and vice versa. The aim of the chamber is in addition to the negotiation of reciprocal interviews, organization of exhibitions and conferences, which have closer relations between the two countries.
In early November, a business forum Chamber of the participation of many partners from the Czech Republic and Saudi Arabia. With what result ended in a forum?
It was the first forum of this kind, where there was an opportunity to bring both sides together in person. And I think that we have managed to create a very good communication between Czech and Saudi-Arabian companies. Feedback on Business Forum has been very positive. I therefore want to similar events in the coming years to continue. It was attended by over 250 participants. Among the partners of a business forum appeared Tatra, Škoda Transportation, Moser, Linet, RSJ Private Equity, G5 Plus, gauges, and other Vitkovice, also Saudi partners BMG Financial Group and Dallah Medical. Czech government was represented by the Ministry of Industry and Trade and the agency CzechTourism.
What are the next planned activities chambers?
More information is available online http://www.parlamentnilisty.cz